Fletcher Park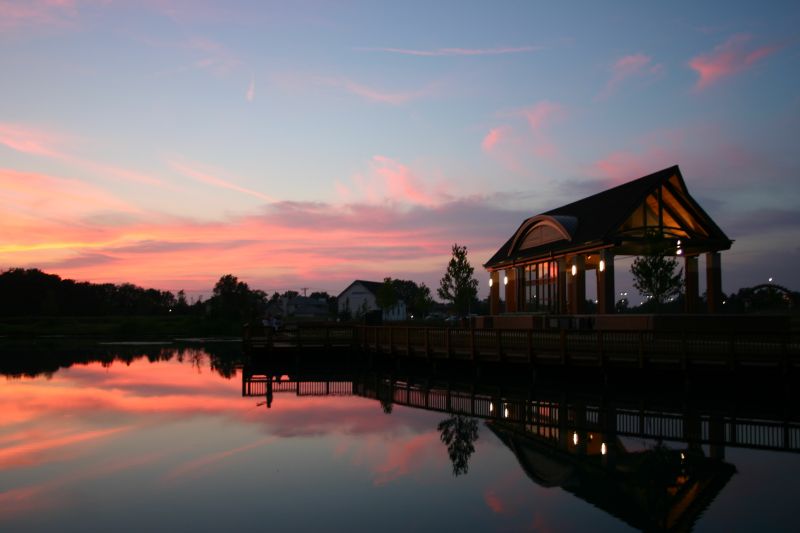 RESERVATIONS:
WEEKEND OF SEPTEMBER 29th – OCTOBER 1st
AMPHITHEATRE
Sunday, October 1st – Brittany Hood (PRIVATE WEDDING) @ 1 pm – 6 pm
SMALL PAVILIONS
Sunday, October 1st – Whitney Bushong (LEWIS PAVILION) @ all day
_______
Mt Zion's Fletcher Park is a 24 acre park located on the south side of town next to the Mt. Zion Intermediate School. The park land was donated to the Village of Mt. Zion by Mt. Zion Township for the development of a large community park. It was developed and built by the Mt. Zion Public Works Department after the tireless fundraising efforts of Mr. David Wilhour and the Mervis Family. The park was dedicated on July 3rd, 2011. The Village of Mt. Zion would like to thank everyone who made a donation and helped Fletcher Park become the beautiful attraction that it is today.
The park consists of a 1/2 mile of sidewalks for walking, a 2 1/2 acre pond, a playground, tennis courts, a one room school house, an ampitheater, open pavilion, small pavilions, a recreation center, and our newest addition - the Splash Pad!
The pond is stocked and open for fishing. It is regulated by the Department of Natural Resources. A fishing license is required. For regulations, please visit our information page HERE. There is no swimming, boating, ice skating or ice fishing allowed.
The Amphitheater can be reserved for special events at the rate of $300 a day (Friday-Sunday) or $25.00 per hour (Monday-Thursday) for residents of Mt. Zion and $350 a day (Friday-Sunday) or $35.00 per hour (Monday-Thursday) for non residents.
The Open Pavilion can be rented for picnics or company gatherings for $150.00 a day (Saturday or Sunday) or $25.00 per hour (Monday-Friday) for residents of Mt. Zion and $200.00 per day (Saturday or Sunday) or $35.00 per hour (Monday - Friday) for non residents.
The Recreation Center can be rented for parties of up to 75 people for $300 per Saturday for residents or $400.00 per Saturday for non residents. The Monday-Friday rate is $50.00 per hour for residents and $75.00 per hour for non residents.
The Small Pavilions rent for $35.00 per day.
For Fletcher Park LOST & FOUND e-mail t_wilson@mtzion.com.
Contact Info
Tiffany Wilson
Director of Parks & Recreation
1400 Mt. Zion Parkway
(217)864-5424
t_wilson@mtzion.com
Frequently Asked Questions
How do I reserve a pavilion at Fletcher Park?
Please call Village Hall at (217)864-5424 to inquire about available dates and the steps to reserve a facility.
Is alcohol allowed in Fletcher Park?
The use of alcohol is not allowed on any public property, so it is not allowed in the Village's parks unless a permit has been obtained through Village Hall.
Can I still use the park if the facilities are rented?
Fletcher Park is a public facility and may be used by the public at anytime.  Please be courteous to any group that is having an event at the park.
Who do I contact if I view someone damaging the park or its equipment?
Please call the Mt. Zion Police Deparmtment immediately at 864-4012.  If you notice damage has been done at the park contact 864-5424.
Locations
Fletcher Park
323 Fletcher Park Blvd.
Mount Zion, Illinois 62549
(217)864-5424